The program is available in two versions. Choose the one most suitable for you. Need help with choosing? Contact us!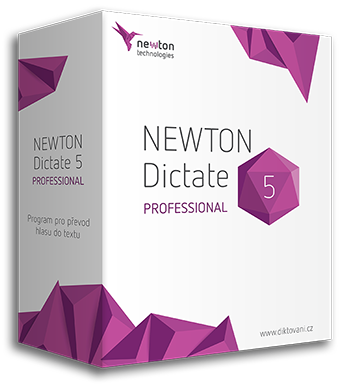 NEWTON Dictate Professional
The Professional version is intended for professionals from different areas of expertise where specialized dictionaries need to be used.
Buy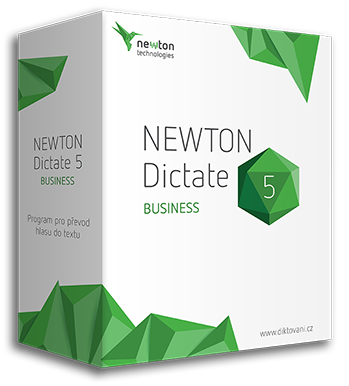 NEWTON Dictate Business
The Business version is intended for normal office use with a general dictionary. It allows flexible licensing.
Buy
FAQ
Frequently asked questions
---
If you have not found an answer to your questions in the following list, please contact us.
What can I use NEWTON Dictate for?
The program can be used in all environments where text documents are created on a regular basis. NEWTON Dictate will increase your efficiency and speed up your work.
How accurate is the conversion of speech to text?
Do I need special equipment for dictation?
For an accurate recognition of the dictated text you will need a high-quality microphone or a recorder. We will be happy to advise you on the selection. Some versions of the program include a free high-quality headset with a microphone.
Where can I buy the program and accessories?
The fastest way to get the program is to order an electronic licence from our eshop. You can also choose from our selection of high-quality accessories. However, if you are not sure which version or accessory will be suitable for you, no need to rush. Write to us or call us and we will be happy to advise.
Can the program "learn" new words?
NEWTON Dictate knows a lot of words. Depending on the language, the basic version recognizes more than 500.000 most common terms and phrases. In addition, you can use a professional dictionary that knows thousands of specific terms. And if it is not enough, you can easily add your own words.
Is the program suitable for disabled people?
For all who are not able to control the computer with their hands, NEWTON Dictate is a welcome helper for writing longer texts. The program is tailored exactly to these needs. Take a look!
Can I use the program for example in Word?
Yes, with NEWTON Dictate, you can dictate directly to all the programs you use on your computer. Try it!
"Try how fast and convenient it is to dictate instead of typing on the keyboard. You will easily get used to the computer obeying your every word."