Scandinavian language identification at TSD
Norwegian now available in Beey
Interview in the Meltingpot forum
Scandinavian language identification at TSD
Scandinavian language identification at the Text, Speech and Dialogue 2021 Conference
10 Sep 2021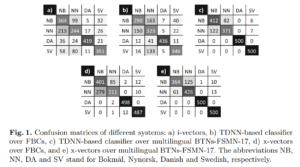 The team of Petr Červa and Jan Nouza presented a paper called "Identification of Scandinavian Languages from Speech Using Bottleneck Features and X-vectors" at the Text, Speech and Dialogue Conference in Olomouc.
The paper deals with identification of the three main Scandinavian languages (Swedish, Danish and Norwegian) from spoken data. The best resulting approaches take advantage of multilingual bottleneck features (BTNs) and allow us to identify the target languages in speech segments lasting only 5 seconds with a very low error rate around 1%. The identification offers the opportunity for many practical applications, such as in systems for transcription of Scandinavian TV and radio programs, where different persons speaking any of the target languages may occur.
Norwegian now available in Beey
Norwegian now available in Beey
11 Aug 2021
The first version of automatic Norwegian transcription is now available in
Beey
. Beey is a web-based platform designed for automatic transcription of recordings and its fast editing. Norwegian thus becomes the first commercially available Nordic language in the portfolio of 
NEWTON Technologies
.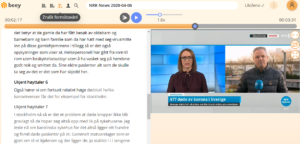 The acoustic model is trained on 210 hours of recordings collected from various publicly available sources, such as the Norwegian TV NRK, Norwegian radio and transcripts of parliamentary proceedings. The automatic transcription of Norwegian can handle both written variants,
Bokmål
as well as
Nynorsk
, even in the case when speakers switch between the two.
Interview in the Meltingpot forum
Interview with Lenka Weingartová in the Meltingpot forum
28 May 2021
The principal investigator of the NordTrans project, linguist Lenka Weingartová, was a guest of the Meltingpot Forum. In an interview with moderator Vladimír Piskala, they talked about how to teach a computer to understand human speech and the projects NEWTON Technologies is currently involved in, including the NordTrans project, and the pitfalls of Scandinavian language recognition.