NTeX
An application for the online conversion of voice to text designed for the NEWTON SpeechGrid environment
Try out it
NTeX
Key features
---
With the NTeX program you can easily test the capabilities of our voice recognition technology. At the same time it functions as a highly efficient tool for the instantaneous conversion of audio or video files to text. You can also use it for direct dictation. Learn about its basic features below.
Audio transcription
NTeX supports the following formats: .aac, .avi, .flac, .flv, .ismv, .m4a, .mkv, .mov, .mp2, .mp3, .mp4, .oga, .ogg, .opus, .wav, .webm, .wma, .wmv.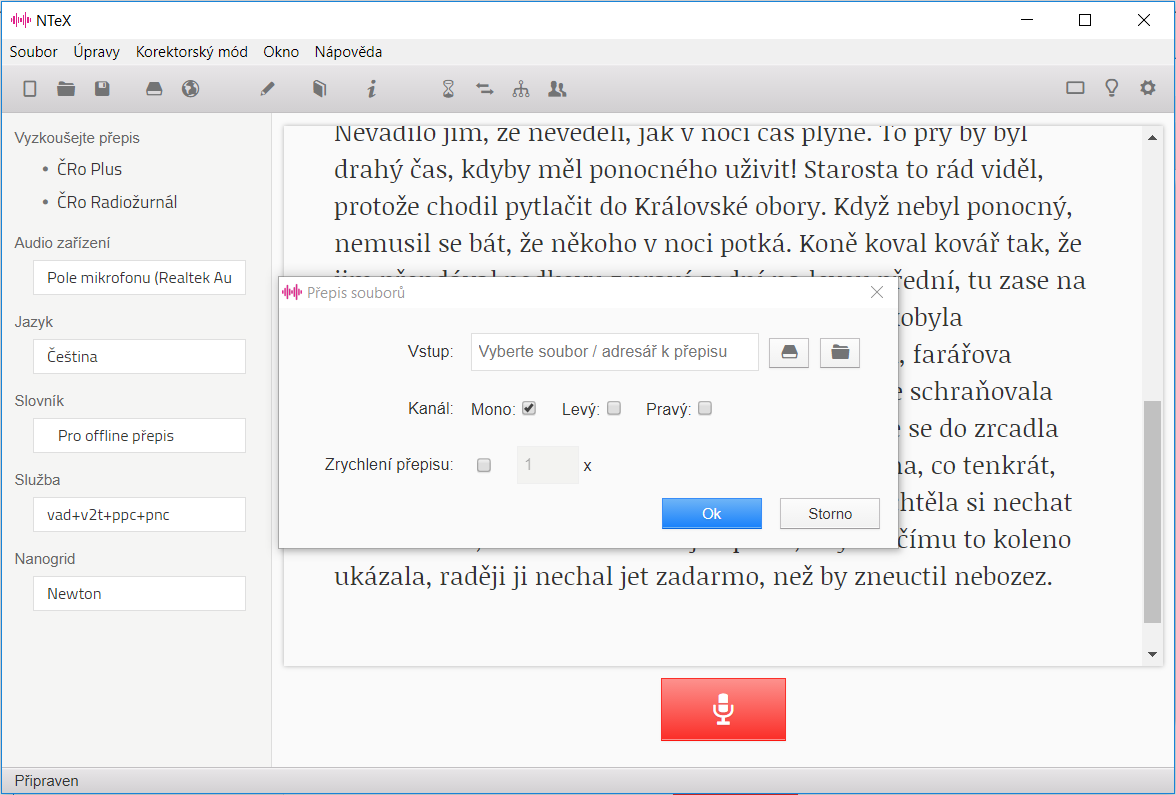 ---
URL transcription
NTeX can transcribe an online stream in real time. It allows you to transcribe videos from YouTube and any online stream that can be played in VLC media player. It is important to keep in mind that the quality of the transcripts is most dependent on the quality of the audio and of the recorded speech itself.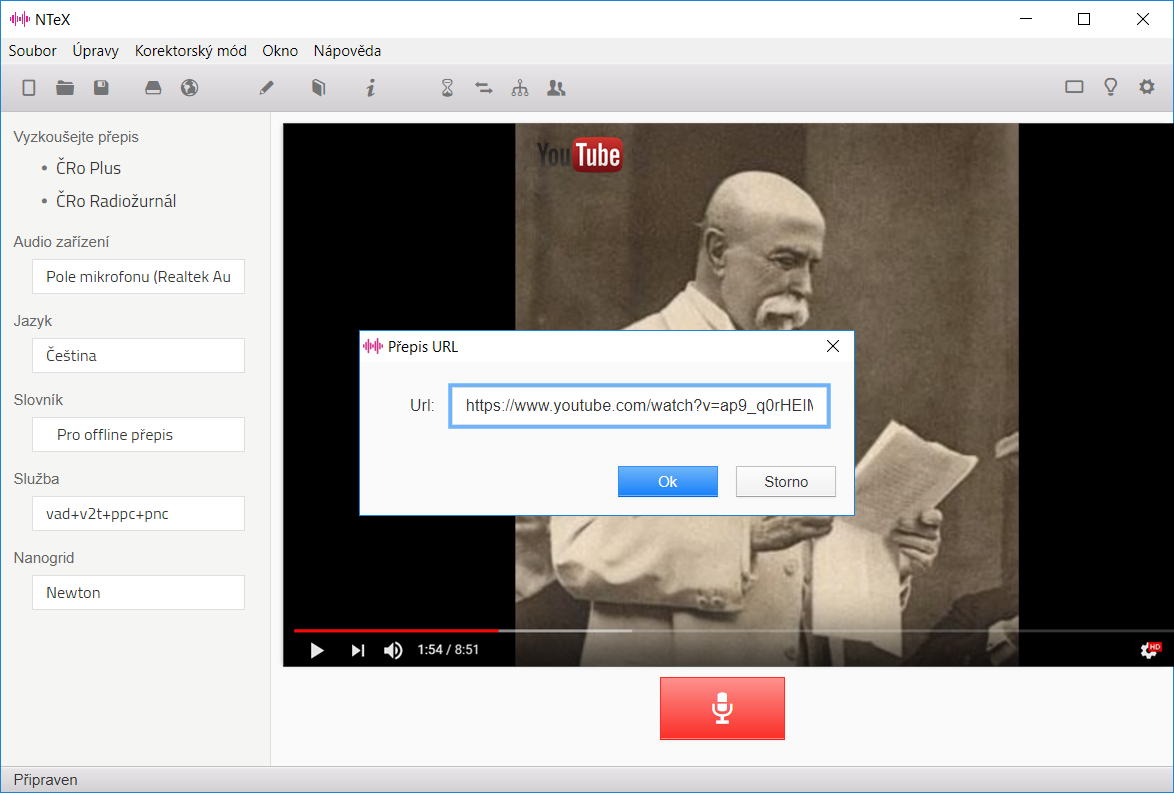 ---
Proofreading transcripts
In proofreading mode you can quickly and comfortably correct any errors, insert punctuation and divide the transcript into sentences. The program allows you to play the audio track during editing. The system will highlight the word that is being played at that given moment.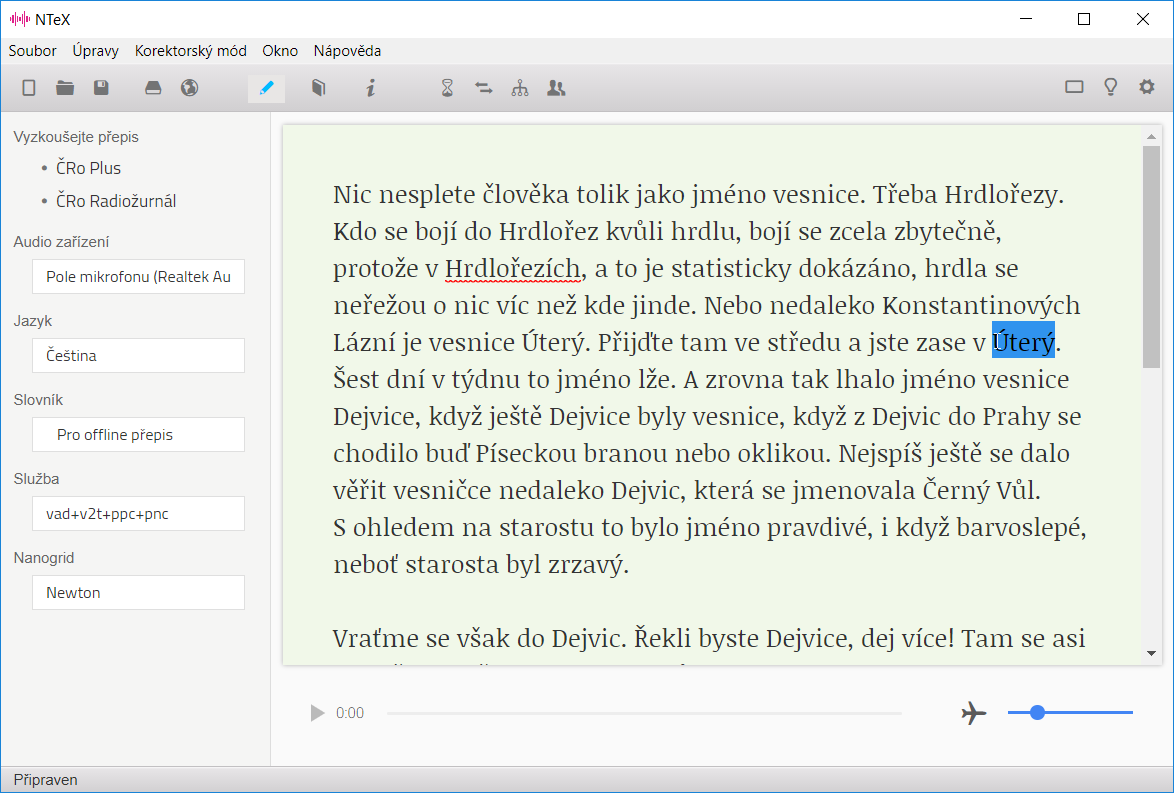 Evaluating transcripts
NTeX has an integrated function for fast evaluation of the automatic transcription. This will allow you too quickly assess the quality of the recording.
Saving transcripts
NTeX allows users to save the newly created transcripts in various text, sound and combined formats.
Adding words to the dictionary
In order to improve the quality of the program's speech recognition it is possible to add user words, for example various specialized vocabulary, to the dictionary.
Direct dictation
The NTeX program can be also used for the direct dictation of your notes and their immediate conversion to text form.
Installation
---
The NTeX program is freely available for download. After installation it requires you to sign in to the NEWTON SpeechGrid service.
NTeX for Windows
Download the most recent version of the NTeX application and install it on your PC with Windows 7 OS or higher.
Download NTeX for Windows
NTeX for Mac OS X
NTeX requires a macOS 10.12 "Sierra" or newer. Open the installation package ntex-4.0.4.dmg. Drag the application's icon into the Applications folder.
Download NTeX pro Mac OS X